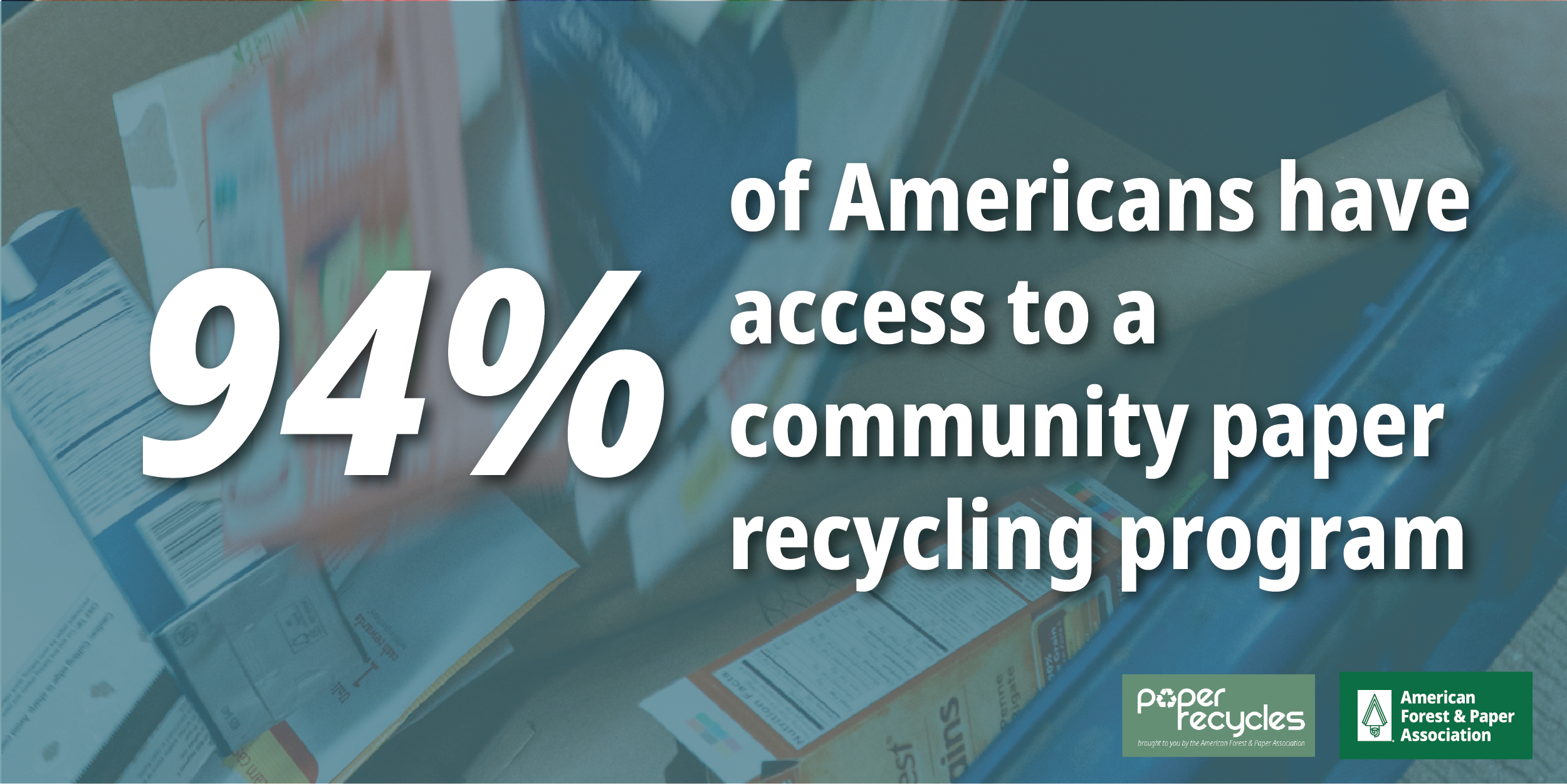 Paper and paper-based packaging remain among the most recycled materials in the United States, and community recycling programs are providing more access to recycling facilities than ever before.
A 2021 study published by the American Forest and Paper Association (AF&PA) shows that 94 percent of Americans have access to community recycling programs. Additionally, this research showed that 79 percent of Americans have access to residential curbside recycling. That's an increase of about 14 million people since AF&PA's similar study in 2014.
During the past decade, some community recycling programs have shifted from drop-off locations to curbside recycling, but overall, access to recycling remains strong for more than 90 percent of population.
"Remarkably, in 2020, during a period defined by the challenges of the COVID-19 pandemic, almost two-thirds of paper was recycled and transformed into new sustainable paper products," says Heidi Brock, president and CEO of AF&PA. "The resilience of our industry is clear, as is the active participation of consumers in making paper recycling the success it is today."
The association, of which Domtar is a member, and companies across our industry are working to educate consumers about what is recyclable and how they can help reduce waste.
What is recyclable?
Fo years, consumers have put copy paper, newspapers and envelopes into recycling bins. But today, many are learning that the range of recyclable materials has expanded.
The rise in e-commerce, accelerated by the COVID-19 pandemic, brought more attention to recycling shipping boxes and using more sustainable packaging.
Residents should check their community recycling guidelines, but consider that the following items are now recycled every day at mills across the country:
Paperboard boxes
Paper-padded mailers
Cardboard packing and shipping boxes
Pizza boxes
Cereal boxes
Milk and juice containers
Frozen food boxes
Over-the-counter medicine boxes
Candy boxes
Recycling Access and Producer Responsibility
Many states are considering legislation, often called extended producer responsibility bills, to regulate the recycling or disposal of a wide range of products, including electronics, mattresses, chemicals and more.
Paper-based packaging is included in some proposals, but these materials are already a recycling success story.
"Ours is an industry that has developed an effective and efficient system for recycling over the past decades," Brock says. "Producer responsibility is something we do on a voluntary and market-driven basis."
Growing community recycling access and awareness are helping reduce waste and improve the circular economy, with paper and paper-based packaging leading the way.